GAS Flooding System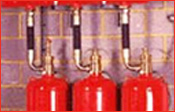 We at Surya Fire Control System have extensive experience in the installation of FM-200 & CO2 fire suppression systems.
About FM200 Fire Suppression
FM-200® (Heptafluoropropane) is a compound of carbon, fluorine and hydrogen (CF3CHFCF3)
FM-200 is a safe, no-residue protection for Class A, B and C type fires
FM-200 is a colorless, odorless gas that leaves no residue to clean up. Unlike water,
80% of FM-200 fire fighting effectiveness is achieved through heat absorption and 20% through direct chemical means (action of the fluorine radical on the chain reaction of a flame
It has a Ozone Depletion Potential (ODP = 0)
FM - 200 is a clean, efficient, environmentally acceptable, and leaves no residue, thus minimizing any downtime after a fire
It extinguishes fires mainly through physical means (by absorbing heat). It is suitable for the protection of most risks where previously Halon 1301 would have had to be applied.
The functioning of the system is the fire detection and control network. Typically detectors sense the presence of smoke in the protected facility. The detection and control panel then sounds an alarm, performs pre-determined auxiliary functions and releases agent into the protected area.
At Surya Fire Control System our fire protection specialists are well trained Professionals in the selection of FM-200 fire suppression systems. Drawings will be prepared using the latest versions of Auto Cad. You will be supplied hydraulic flow calculations and other data detailing the expected performance of your FM-200 system
Where FM 200 can be Applied
Computer Suites, Telecommunications, Equipment, Remote Cellular Communications Cabins, Archive Stores, Control Centres
Communication Centres Transformer and Switch Rooms and Flammable Liquid Storage
Control rooms such as railway signalling centres and air traffic management centres
Medical and laboratory equipment
Computer suites, EDP facilities and telecommunications hardware
Stores and archives
Heritage sites such as art galleries and museums
Petrochemical plant, offshore oil and gas installations, pipeline pumping stations
Typical areas that can be protected by a FM-200 system are Bank Vaults, Libraries, Rare Book Storage, Electronic Data Processing, Telephone Exchanges Studios
About Carbon Dioxide Fire Suppression System
Carbon dioxide, the original "clean agent" is still economical solution, providing automatic or manual protection for Class A, B, or C fires
A Carbon Dioxide Fire Suppression system consists of one or more banks of cylinder storage containers to supply the CO2 extinguishing agent. Flexible discharge bends, or hoses, connect the cylinders into a piping manifold. The manifold in turn distributes the agent into the piping network. Nozzles regulate the flow of CO2 into the protected area. Before Carbon Dioxide is released into the protected facility, fire must be detected by a detection and control system.
When applied to a fire, CO2 provides a heavy blanket of gas that reduces the oxygen level to a point where combustion cannot occur
Carbon dioxide is recommended for the protection of unoccupied facilities. CO2 is economical and can be selected as a local application or total flooding system.
Carbon Dioxide fire extinguishing systems can be used to protect a wide variety of hazards, from delicate electronic equipment to high-voltage electrical equipment, all without causing damage to the equipment being protected.
At Surya Fire Control System we install and design carbon dioxide fire suppression systems according to our client's preference.
Where CO2 can be applied
Printing presses, Vaults, Open pits, Dip tanks, Spray booths, Ovens, Engine rooms ,Coating machines, Process equipment, Hoods and ducts, Flammable gas or liquid storage areas, Printing presses, Mixing Operations.